At Silverwood Dental Clinic in Saskatoon, we understand dentistry for children and the importance of promoting healthy dental habits at a young age.
Because children have thinner enamel and smaller teeth than adults, cavities have the potential to develop quickly, leading to aching teeth or the early loss of primary teeth. We recommend visiting our family dental clinic in Saskatoon at an early age to help establish good hygiene habits, and avoid decay leading to cavities. We suggest bringing your child in for their first dental exam by about the age of two or three. At this appointment, our patient and caring team will make every effort to put your child at ease, and ensure they look forward to visiting the dentist!
A child-friendly dental clinic in Saskatoon, SK
Keeping your child busy before a dental appointment can work wonders at maintaining low anxiety levels and achieving a calm mindset. That's why we provide gentle entertainment in our waiting room such as literature, colouring books and toys to help keep them engaged and happy in the event there's a brief wait time while their other siblings are being seen by the dentist.
Once they're in with the dentist, we take our time to explain the details of any procedure, and answer all questions in an attempt to build trust to ensure your child feels comfortable in our chair. We also offer preventive dentistry treatments at the clinic, including dental sealants and fluoride treatment, which play an important role in maintaining healthy young smiles.
We look forward to meeting you and your family!  Schedule an appointment at Silverwood Dental, today - 306.242.5233.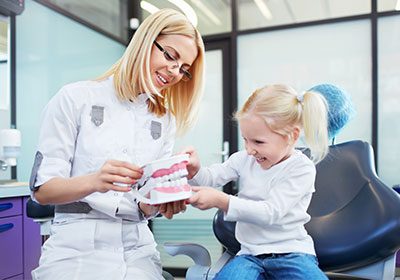 *Saturdays twice a month.
Dr. Michael Rosenhek
Dr. Kris Marshall

3-75 Lenore Dr.
Saskatoon, SK
S7K 7Y1