Why a family dental clinic is a must for your clan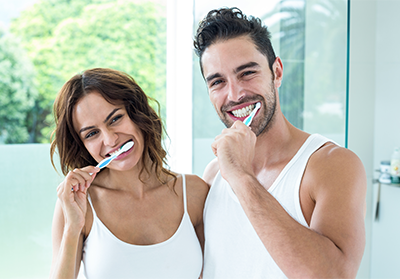 Wouldn't it be great to find a family dental clinic that could treat everyone in your clan? At Silverwood Dental, we make family dental care as accessible as possible for the whole family. At our family dental clinic in Saskatoon, SK we are fully equipped to treat seniors, adults, young children, and everyone in between, making it a convenient one-stop-shop for the entire family.
Dr. Michael Rosenhek and Dr. Kris Marshall, along with our entire team at Silverwood Dental can start caring for your child by the age of three. We also treat children throughout their adolescent and teen years!
The importance of child and teen dental care
When dental care is provided by the same clinic throughout your child's various developmental stages, it reduces the risk of overlooked issues. Our dental practice will keep detailed and up-to-date files on your child's growing teeth and jaw, giving us the opportunity to notice immediate complications so suitable care can be administered.
Children's teeth grow at a fast rate and need proper care. Did you know that your child's baby teeth can have a direct impact on their permanent teeth? Whether that impact is positive or negative will all depend on how well their baby teeth are cared for. We offer a full line of preventative dentistry services, including dental sealants and fluoride treatment to help keep teeth healthy. Our family-friendly dentists and hygienists are well trained in dentistry for children of all ages, and will help ensure that your child is relaxed and comfortable throughout their visit with us.
Three ways family dental care makes life easier
Stress-free dental care: With a family dental clinic, you no longer have to worry about multiple dental providers. You can simplify care by scheduling your family's dental services together, all under the same roof.
Wider variety of services: Because a family dental clinic sees patients of all ages, they provide a wider variety of dental services to meet their patients' unique needs. Some of the family dentistry services you can expect to receive at Silverwood Dental include full and partial dentures, dental implants, cavity fillings, dental crowns, teeth whitening, root canal treatment, and much more.
Healthy hygiene habits for the whole family: By making oral health a priority, you can set a lasting example for your little ones. Your children can have a front row seat during your dental treatment. And from our experience, children who are exposed to dental care at a young age are more likely to preserve good dental hygiene habits long into adulthood.
Schedule a dental exam for the whole family
If you are looking for a dental office that can treat the entire family, contact our family dental clinic in Saskatoon, SK, today! We look forward to providing you and your family with the compassionate and comprehensive care you deserve.
Please call us at (306) 242-5233 or contact us online to book your consultation.